Mozilla Firefox Quantum 58.0.2 Offline Installer (32bit & 64bit) Full Version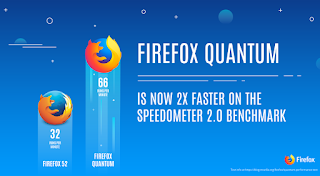 Free Download Mozilla Firefox Quantum 58.0.2 Offline Installer (32bit & 64bit) Full Version
| Pada kesempatan kali ini saya akan membagikan kepada sobat semuanya sebuah software terbaru yang bernama
Mozilla Firefox Quantum
. Browser versi terbaru ini sangat populer sekali sekarang ini. Dimana broser terbaru memiliki sebuah penambilan yang sangat baru sekali tidak seperti mozilla firefox sebelumnya dengan sebuah penampilan terbaru browser ini sangatlah gampang sekali untuk sobat gunakan untuk menjelajahi sebuah akses internet dan disetiap masing-masing browser memiliki sebuah titik yang tidak bisa diragukan lagi yaitu ada kelebihan dan kelemahan disetiap masing-masing browser. sobat kalau sering menggunakan mozilla firefox ini pastinya sobat tau seperti apa saja yang terbaru didalam broser yang satu ini.
Sobat perlu mengetahui sebuah kelemahan yang dimiliki Mozilla firefox ini yaitu dimana sobat merasa cukup berat dalam mengakses internet ketika sobat membuat tab yang terlalu banyak dan sobat tidak perlu bingung lagi dalam mengatasi kelemahan tersebut karean
Mozilla Firefox Quantum
ini akan mengatasi itu semuanya untuk sobat jadi semuanya kelemahan tersebut akan terasa ringan jika sobat menggunakan Mozilla firefox Quantum ini. Kalau sobat belum percaya lansung saja cobak downlaod software browser terbaru ini biar sobat tidak merasa penasaran seperti apa browser terbaru tersebut.
Semakin lama software terbaru ini menjadikan sebuah broser tercepat sehingga tidak ada yang mengetahuinya sehingga sobat bisa membandingkan dengan versi yang sebelumnya untuk sobat ketahui dan software ini mempunyai sebuah keringanan dalam menjalankan situs online dengan mempunyai sebuah fitur-fitur yang sangat lengkap sekali untuk sobat ketahui. mempunyai sebuah penggunaan dalam memory menurun secara drastis begitu pula dengan kecepatan loading dari browser meningkat drastis.
Screenshot:
What's New:
A powerful, new engine that's built for rapidfire performance.
Better, faster page loading that uses less computer memory.
Gorgeous design and smart features for intelligent browsing.
Link Download: